Benefits & Features
Comfort Made Simple
MRCOOL
®
3rd Generation Enhanced DIY
®
Easy DIY
®

Installation
Precharged 410 Quick Connect
®

Lineset Pre-charged linesets allow you to install this innovative ductless system without special tools, equipment, or training. Couplers are available for extended lengths. Check out our patent here.
Energy Star
Certified Efficiency
Going above and beyond for efficiency while maintaining optimum performance and reliability, the 12K, 18K and 24K models are Energy Star Certified.
Smartphone App [NEW]
Enhanced Control from Anywhere
Control your MRCOOL DIY

®

anywhere with your Apple or Android smart device and an internet connection.
Follow Me
®

Function
Personalized Performance
Keep the remote close by, and MRCOOL DIY

®

will track the air temperature around you to ensure you receive maximum comfort.
Leakage Detection
Protecting Your Investment
When the MRCOOL DIY

®

detects low coolant an alarm will sound to alert you to the problem. This will prevent damage to the compressor while you maintain high air comfort.
Low Ambient Cooling
Cooling down to 5°F
This feature makes the MRCOOL DIY

®

the ideal system for server rooms, greenhouses, and any other application that requires cooling all year.
Auto Restart
Never Lift a Finger
Power outage? Don't worry, the MRCOOL DIY

®

auto restart will have the unit running again in no time at all.
Sleep Mode
24-Hour Comfort
We made Sleep Mode easy to program to save money, and let you sleep a little easier.
Louver Position Memory
Remembers So You Don't Have To
Horizontal louver will automatically move to the same position as you set last time the unit was turned on.
Gold Fin
®

Condenser
Corrosion Resistant
Live on the coast? Don't worry, our condenser is built to resist long term corrosion.
Digital Assistant Ready
Google Assistant & Amazon Alexa
The new MRCOOL

®

Smart HVAC Controller

®

Module and App fully support Google Assistant & Amazon Alexa out of the box.
Warranty
5-year Parts/7-year Compressor/1-year Remote
The DIY

®

3rd Generation Energy Star comes with a standard 5-year limited parts warranty, a 7-year compressor warranty, and a 1-year remote warranty for the original registered owner.
Quick-Connect
®

Pre-Charged Line Set

Kink Resistant for Easier Bending During Installation

100% Accurately Precharged R410A Refrigerant

Standard lengths of 16ft and 25ft can be combined using Optional DIY® Couplers for longer lengths

Simple to Use, Leak Proof, and Screw-on Quick Connect Valves do not require vacuuming

Quicker Installation than Conventional Line Sets

Strong UV Protective Insulation provides extra protection against sun damage, weather erosion, or destruction from animals or insects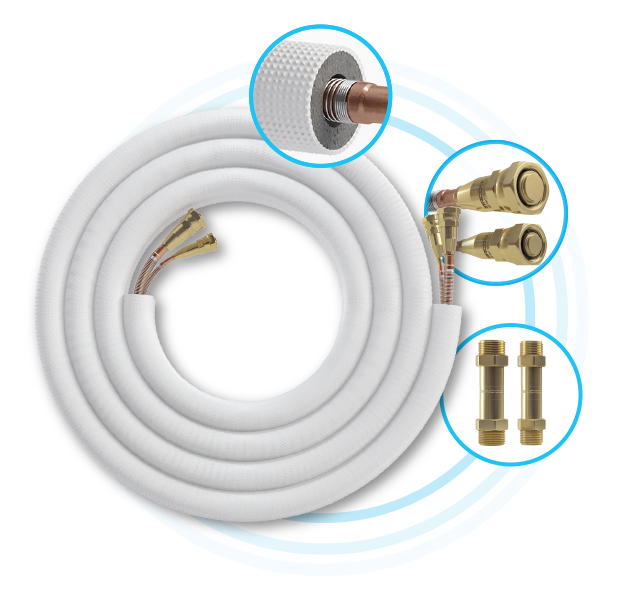 Fits in every home
NOTICE: MRCOOL
®

products must be installed in accordance with all applicable local, state and federal codes and regulations. Unless explicitly stated otherwise, installation must be completed by a licensed / certified HVAC technician. ALL electrical connections to a power source must be performed by a licensed electrician and comply with local, state and federal electrical codes and regulations.
Do It Yourself with MRCOOL
®

DIY

®